ARTIST OF THE MONTH-PINO
ARTIST OF THE MONTH
Every month we introduce you to one of our consignment artists. There is no salt and pepper, we reveal the rawest story on our artists' creative journey. How they met and fell in love with jewellery? What inspired them and how? What was the making process like? What are the tips on being a successfully established jewellery artist? Visit our Facebook and Instagram pages to stay up to date on our latest collections. Go to
INTERVIEW ARCHIVE
to read more stories.
Artist of the Month (12): Claudio Pino
January 31, 2018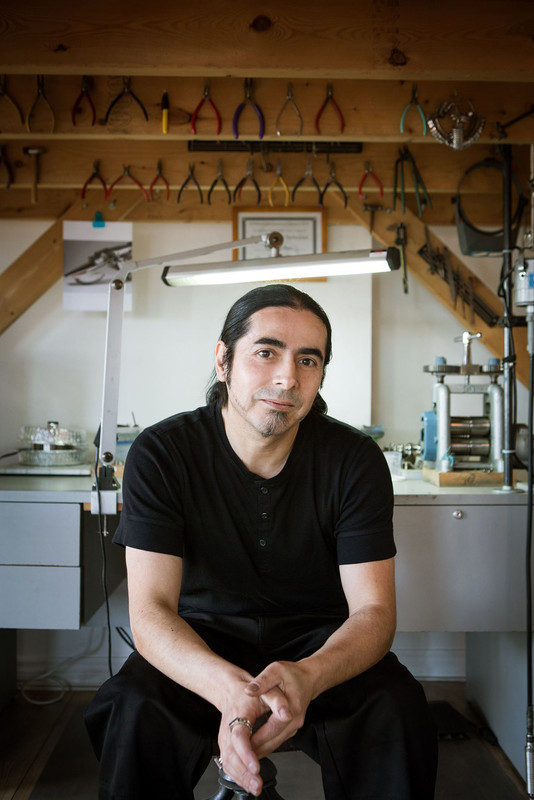 Claudio Pino photographed in his studio by Josee Lecompte.
The Origin Story

World-renowned jewellery designer and goldsmith Claudio Pino is known for his astonishing sculptural and kinetic rings. His work is a bold new addition to the 18Karat Gallery, and throughout this month we will share insights from our exclusive interview with the artist himself. Let the journey begin!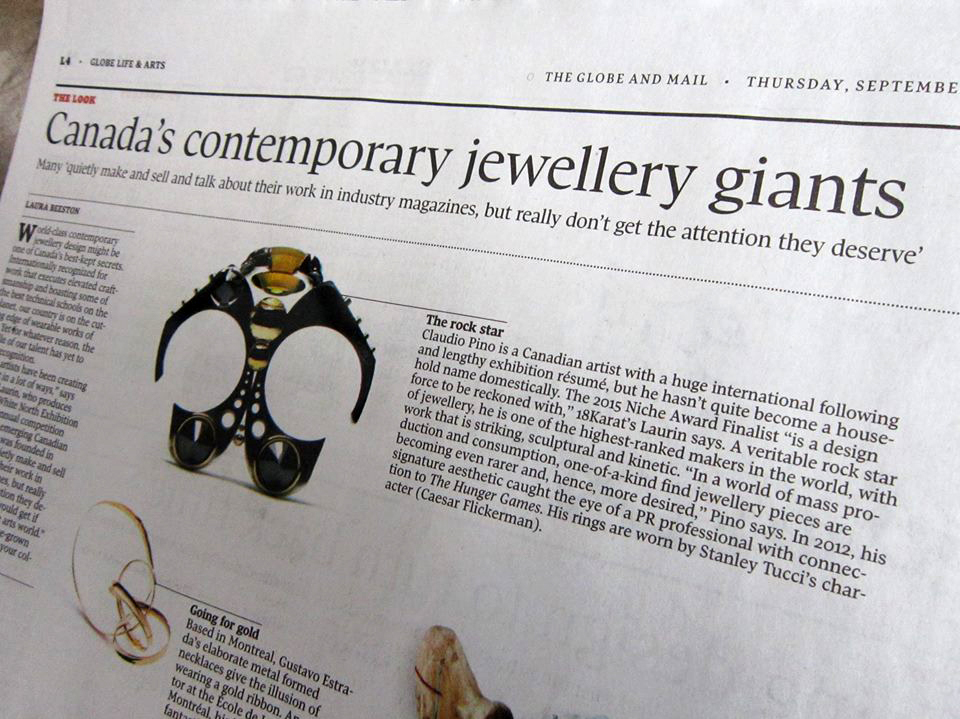 Article by Laura Beeston featuring Claudio and The Rock Star ring.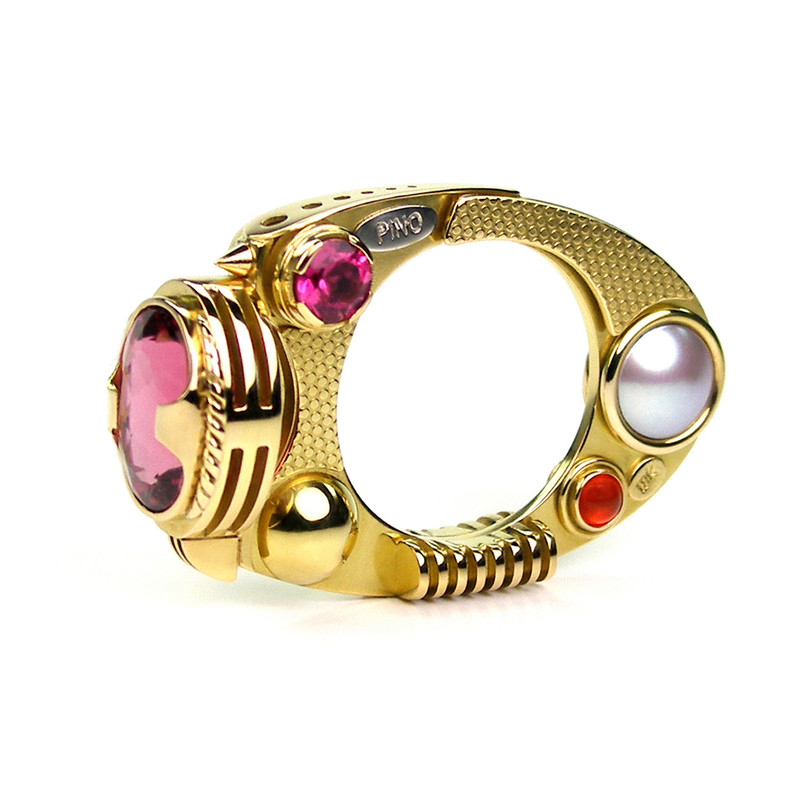 Golden Elegance - 18k yellow gold, pink tourmalines, pearls, carnelian. A tribute to the sun inspired by the natural glow of gold

Q: What is your origin story?
A: A fascination with ancient history and the symbolic significance of jewels in different cultures influenced my great passion for jewellery. However, it goes back to my childhood. At the age of 7, I remember standing for hours quietly watching my father carving miniature wooden ships from scratch. For months, I anticipated how the raw materials would slowly take shape under my father's hands. I would also look often at my rock collection, and be mesmerized by my mother's jewellery. This was all the beginning of a grand adventure enthralling me to transform raw materials into precious, portable objects.


The desire to create unique, one-of-a-kind pieces while providing a contemporary touch reflects the origin of my artistic research today. Making Fine Art Jewellery permits me to express emotions and concepts, as well as share them with others. It is also a wonderful opportunity to use this type of art as an instrument to externalize our senses.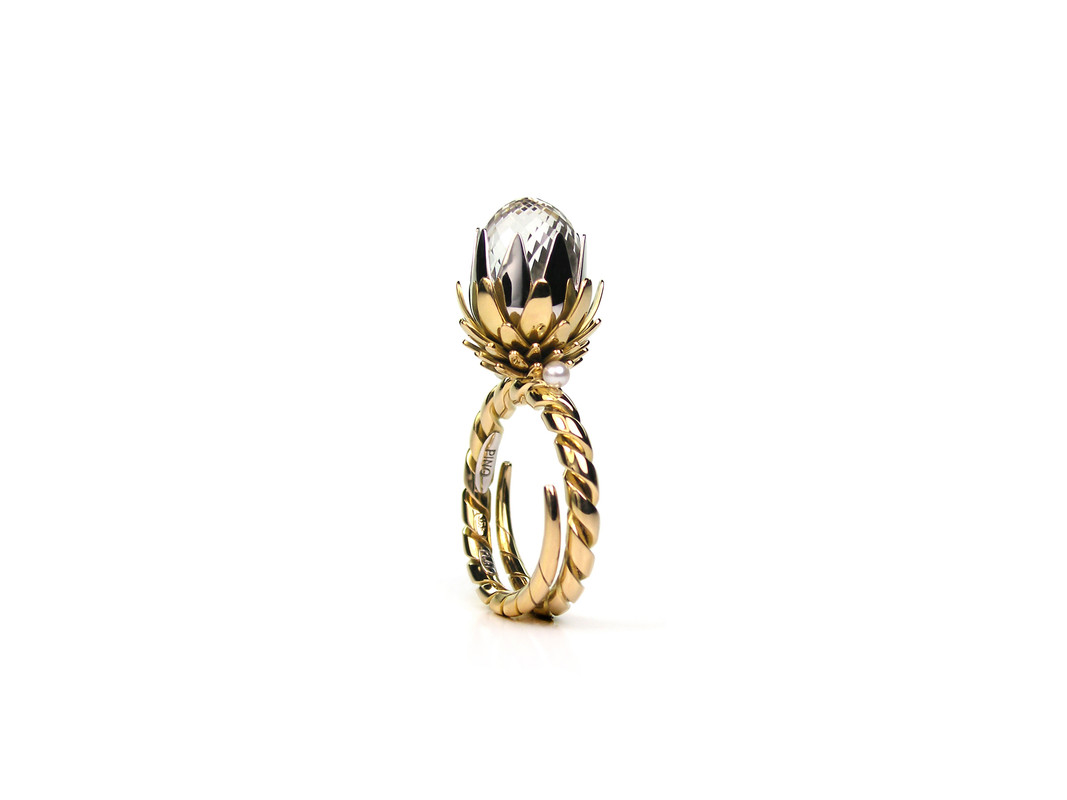 Majestic Flower - 18k yellow gold, 950 platinum, quartz crystal, pearl. Inspired by the beauty of nature and the cycle of life, this ring is an homage to the poetry and preciousness of spring.

Q: How did you get started in the jewellery industry?
A: Since earning my Professional Jewelers' Diploma from l'École des métiers du Sud-Ouest de Montréal in 1995, I have been exclusively dedicated to the fabrication of one-of-a-kind pieces of contemporary jewellery. Over the years, I have developed my own techniques to push the limits of fabrication by hand to meet new challenges both technically and conceptually. It is important to note that the complexity in my work can be found as much in the simplicity of the lines of my design as in the combination of gemstones and types of mechanisms — as well as in something I've carried since the beginning of my career in the jewellery industry: a desire to expand the skills I've acquired, while never forgetting the importance of assuring total comfort for wearers.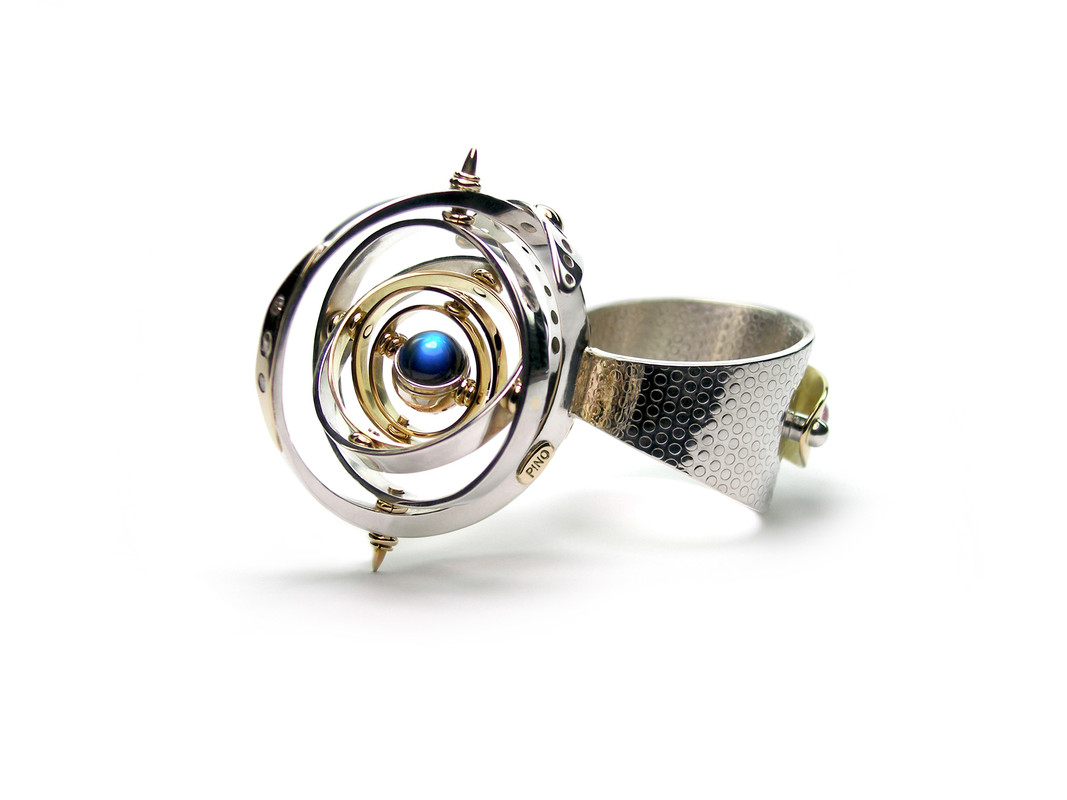 Infinity, Kinetic Ring - 14k yellow gold, sterling silver, diamonds, ruby, moonstone. This ring represents the unique sensation of weightlessness. The moonstone in the centre of the mechanism portrays a drop of water floating freely in space.

Awarded the 2009 Steele Trophy - 1st Place Award for best design in Canada, Metal Art Guild of Canada - Judges: Sandra Noble Goss and Bob McDonald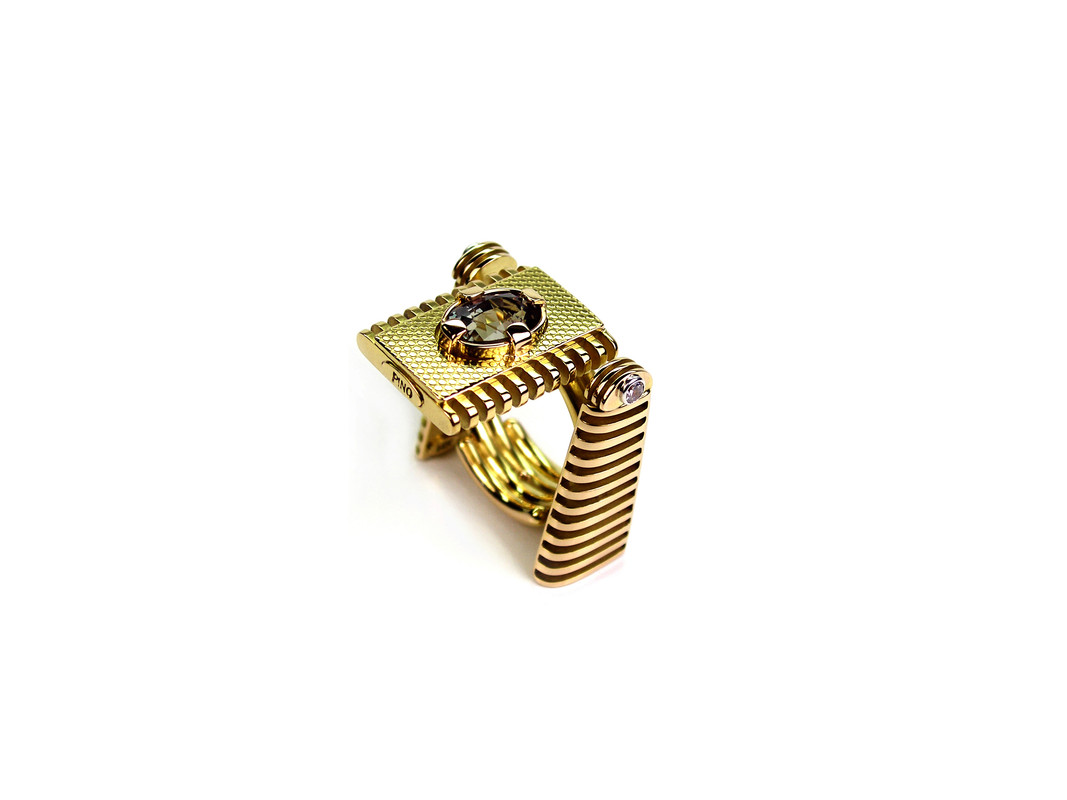 The Golden Chameleon Ring - 14k yellow gold, alexandrite, diamonds. Textures, colours, shapes… each angle offers a different universe to be explored.
Awarded in 2015 3rd place in Canada, Conceal/Reveal Competition, The Metal Art Guild of Canada
Q: What is your work process like?

A: First, I need my dark coffee from Kenya (my favourite one), then I often start the day with gemstone cutting and faceting (it's my yoga). In 2012, I took an intensive training in Petaluma at the Ashton Gemstone studio and now I am working with my ULTRA TEC Faceting V5 Faceting Machine every day! I work alone in my workshop as I focus 100% on creativity and not mass production. All my rings are handmade and are the only one of their kind in the whole world. I really see them as little portable sculptures!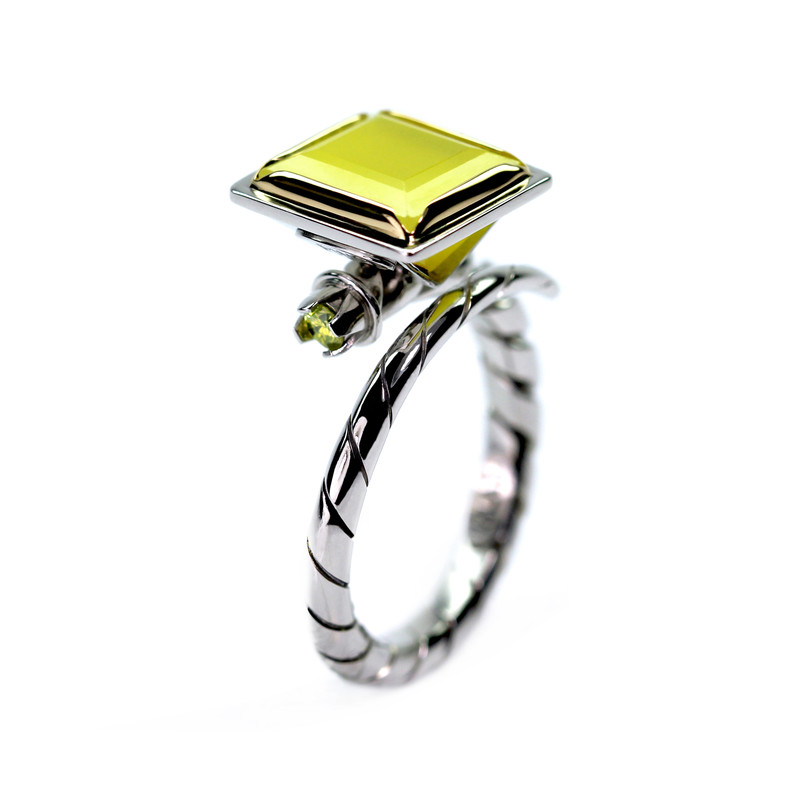 The Canary Ring - 950 platinum, 18k yellow gold, yellow diamond, Italy Monteponi Mine yellow smithsonite. The vivid colour evokes pure energy!

For me, the first step is to find a gemstone that represents the theme I want to explore. After cutting and polishing the gemstone, it is by holding it in my hand that the actual construction begins in my mind. A few days later I'll start sketching the design on paper, and then I create some very basic drawings. These sketches and drawings help me think of ideas and quickly see the possibilities. When I create new mechanisms, I usually build prototypes or small models in silver before making a finished piece in platinum, gold, or palladium.


From the concept and the drawing to the design, fabrication, gemstone faceting and setting, I complete each step using an architectural approach, as if my miniature work was a monumental sculpture. I strive to make my pieces interesting from all angles. I complete every step in my workshop, without any subcontracting. This includes drilling, cutting, setting, folding, cutting and faceting of gemstones, surface textures, spinning, granulation, and soldering techniques. With an architectural approach, each piece requires more than 100 solder points and exists in only one copy.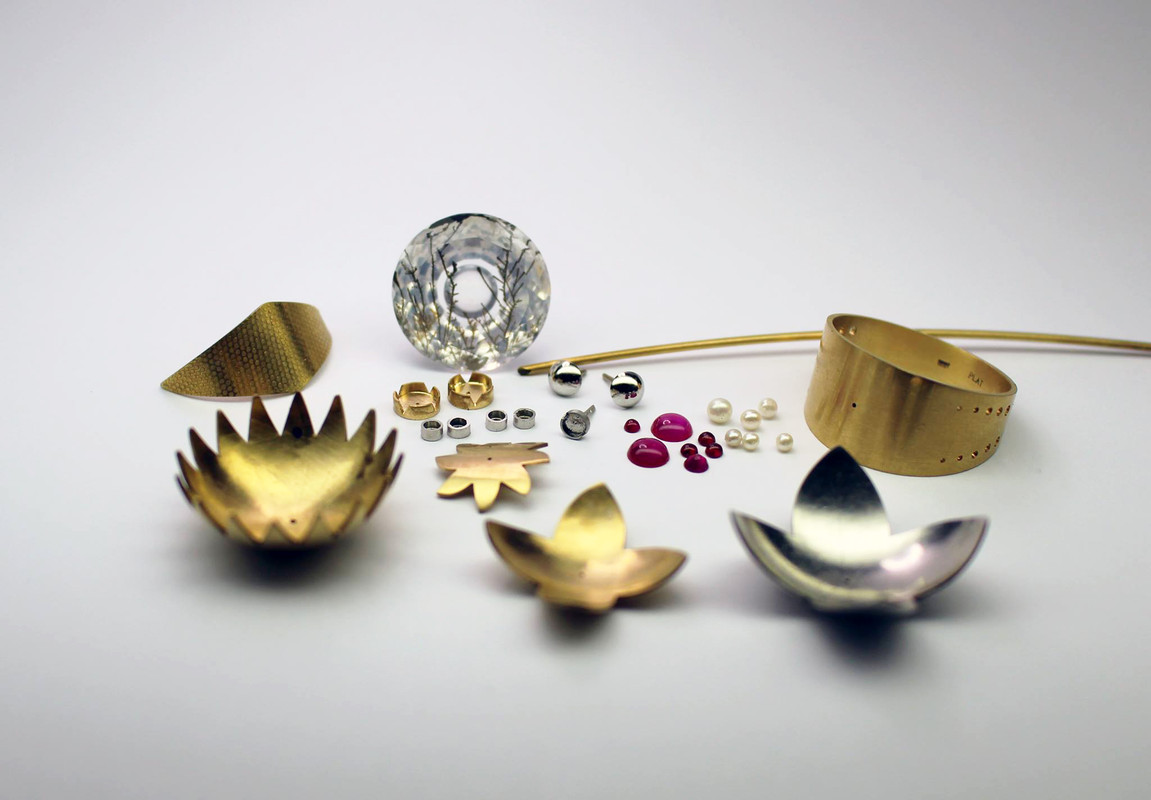 The Dixie Ring - Step 42: all parts are ready. Now, it will bloom! Time to solder everything...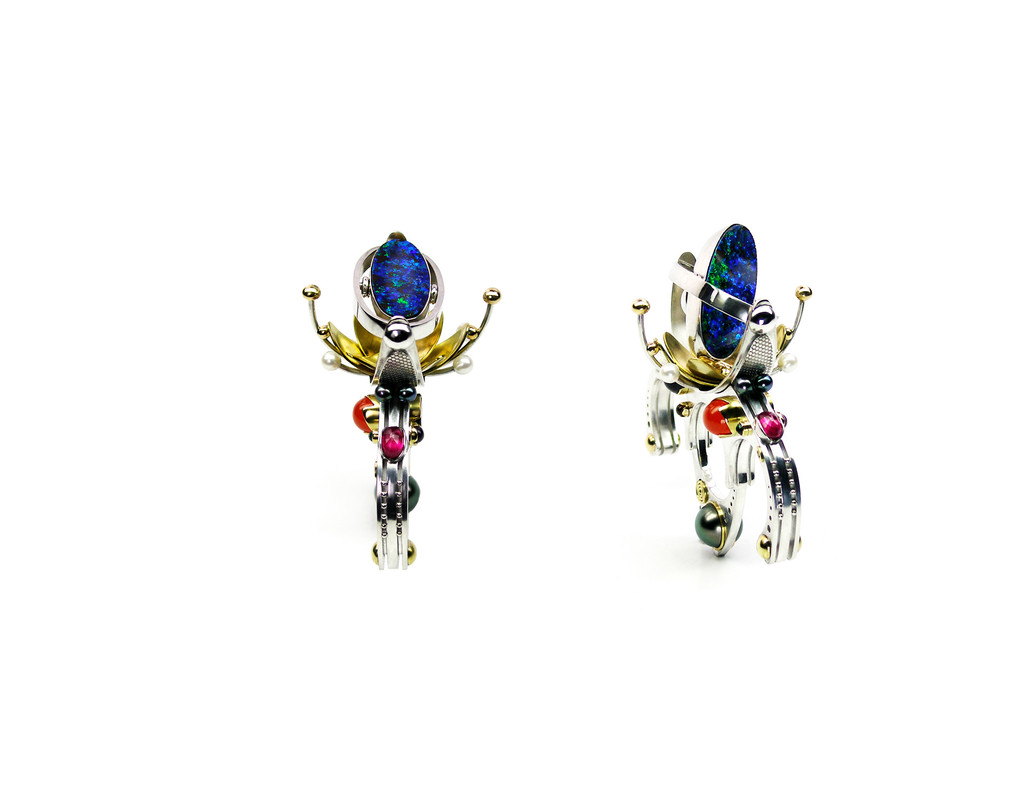 Princesse Celeste, 3-Finger Kinetic Ring - 18k yellow gold, sterling silver, opal, ruby, diamonds, moonstone, carnelian, emerald, citrine, amethyst, black onyx, tahitian pearls.

Q: What makes your collections unique in the industry?
A: Well, maybe… the unexpected! My rings are principally recognized by their futurist and sculptural characteristics and by how comfortable they are. Each design is filled with details that tell stories through the special symbols that are found all around each band. Sometimes the details are hidden inside the band or under the stone, and they are there exclusively for the owner to see and enjoy. My designs are a continuous search for a unique combination of physical attributes, sculptural portability and conceptual research, with a goal to make each piece an extension of the body. It must feel extremely natural to the wearer yet always unique in the eyes of the observer. For me, this allows my creativity to flourish.


I have always been interested by the relationship that the owner has with their rings. In 2000, I began a series of Kinetics Rings that evolved from a ring which featured a beautiful Australian fire opal. I was trying to find a way to show how amazing the gemstone was while moving, and wanted to show everyone the bright blue and purple firefalls that the opal could offer. Thus, I created my first small mechanism where the stone was free to move yet always face the wearer. Over the years, I have developed my own aesthetic signature, and I am pushing my imagination forward with every new design that I make.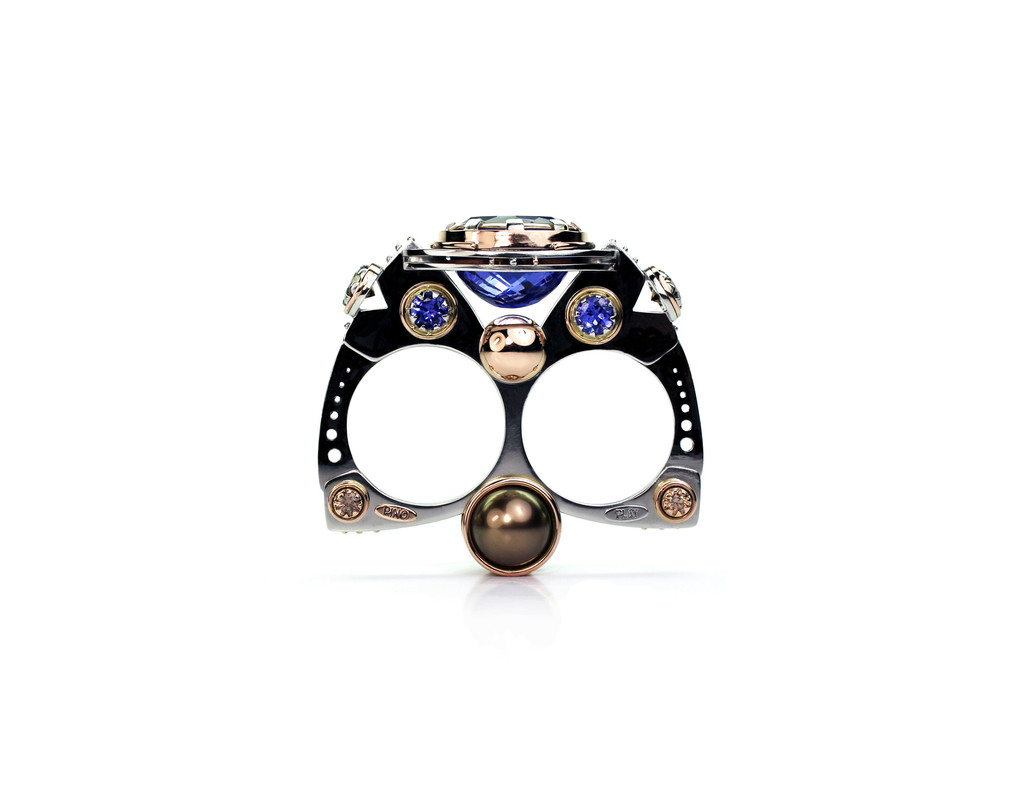 The Kym's Ring: Mystical Blue - 950 platinum, 18k rose gold, tanzanites, cognac diamond, pearl. Private collection: USA.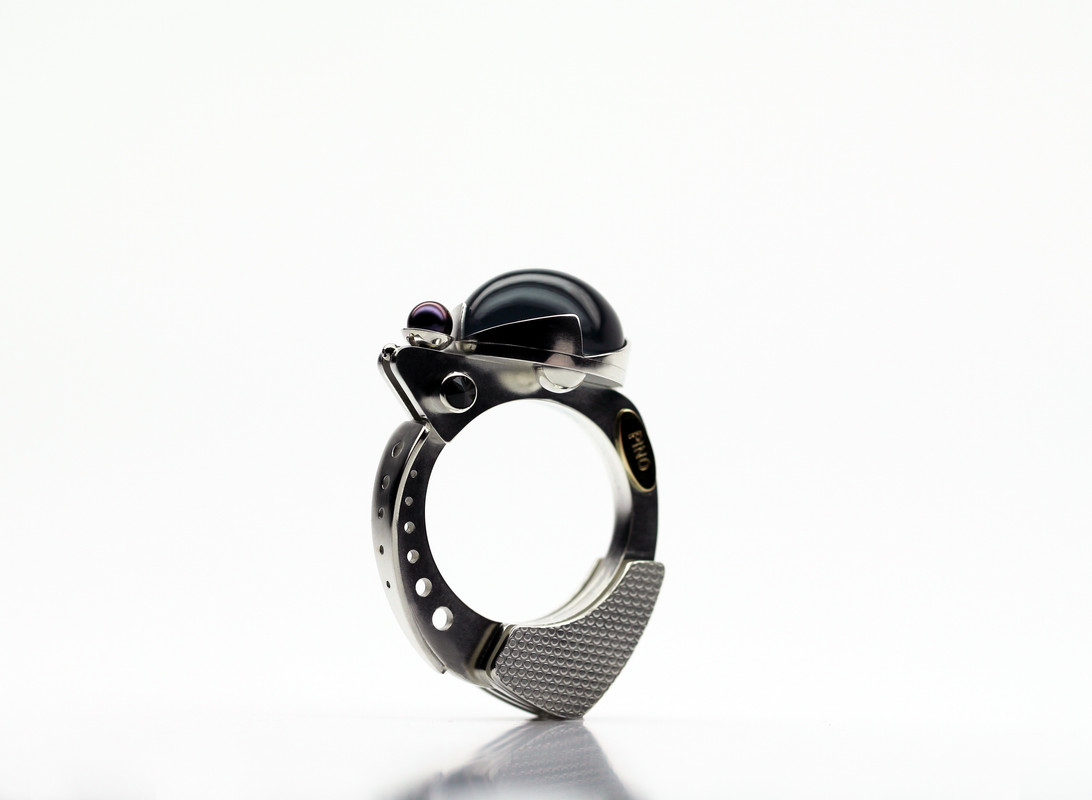 Vena Amoris Ring - 18k yellow gold, sterling silver, quartz with titanium dust inclusions, black spinels, black pearl. Private collection: Israel.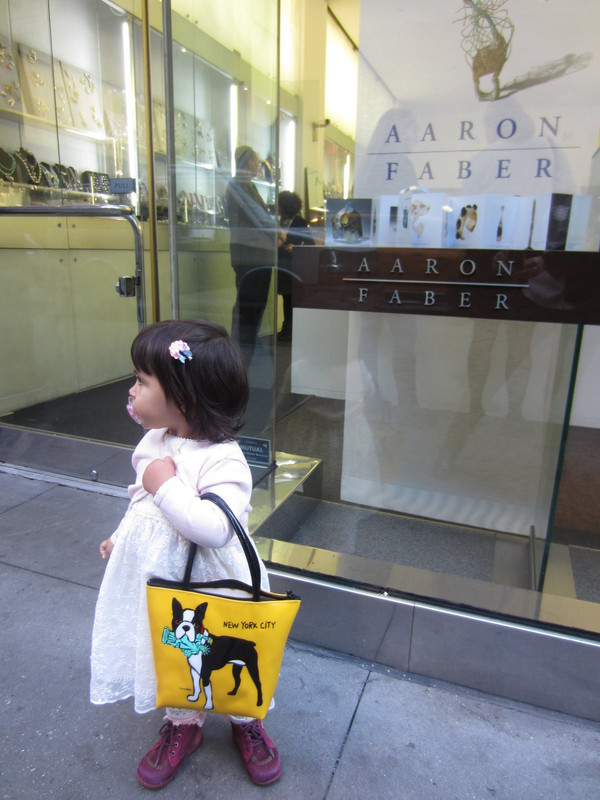 Claudio's daughter, a great inspiration! Always there at his show openings!

Q: Where do you gather inspiration?
A: Each of my designs represents a different thematic system — a mirror of multiple metaphors… However, I must say that making a piece especially for someone, inspired by her or his personality has really kept my creative flame alive since 1995! Still today, after over 20 years as a full-time jewellery designer of one-of-a-kind pieces, human beings with dreams and personalities are my main source of inspiration – I make jewellery for them, inspired by them! Each creation is for me a new challenge, evoking emotions, like a small tableau telling a story that you can wear!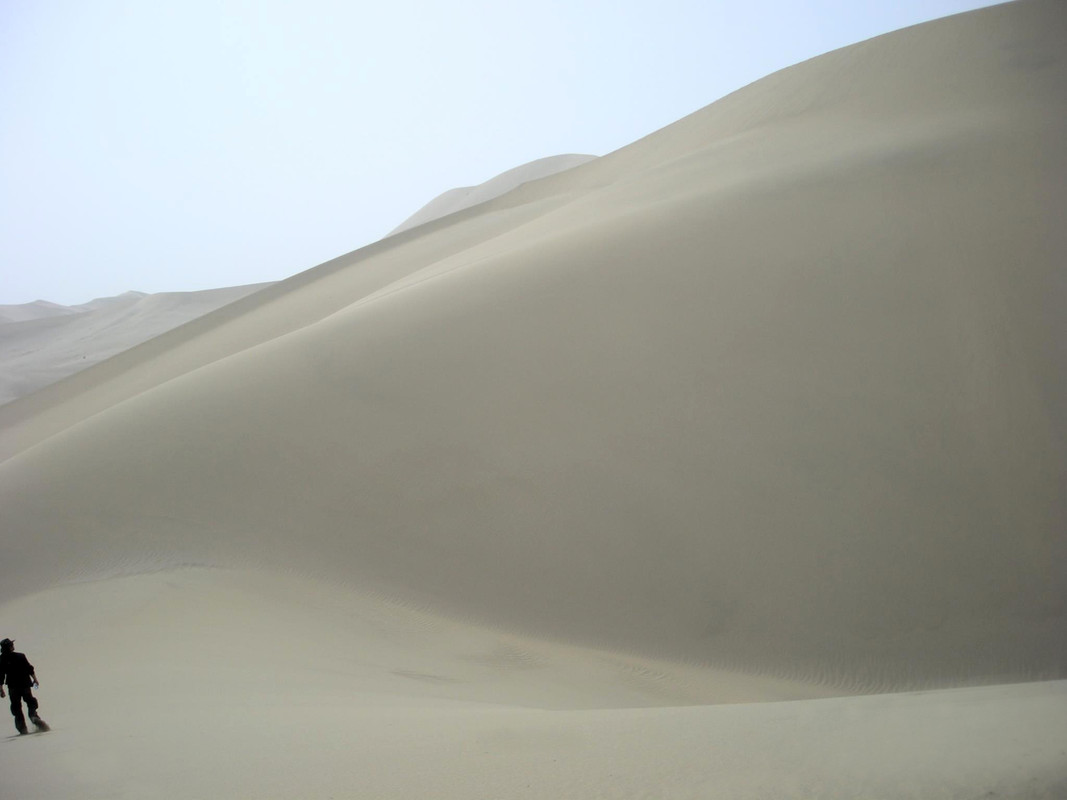 Claudio on his trip to the Gobi Desert, Dunhuang, China - inspirations also come from his travels around the world, experiencing the magnificence of nature.

An example of this would be my Kinetic Ring entitled Magnificence Stellaire, which was inspired by the immensity of the starry sky in the farthest reaches of the northern hemisphere. The central stone - a black opal, partially transparent, with bright blue and purple flakes - portrays the aurora borealis with colourful and turbulent wisps of air in the vibrant darkness of the night. In this ring, the stone freely rotates 360 degrees yet remains facing up at all times. This is the result of a carefully designed and complex mechanism that allows for a smooth, delicate motion in order to reproduce the dynamic of the aurora borealis. For me this ring is much more than the representation of a trend; it symbolizes a vast sky, a sky that unites us all despite the great distances that separate us.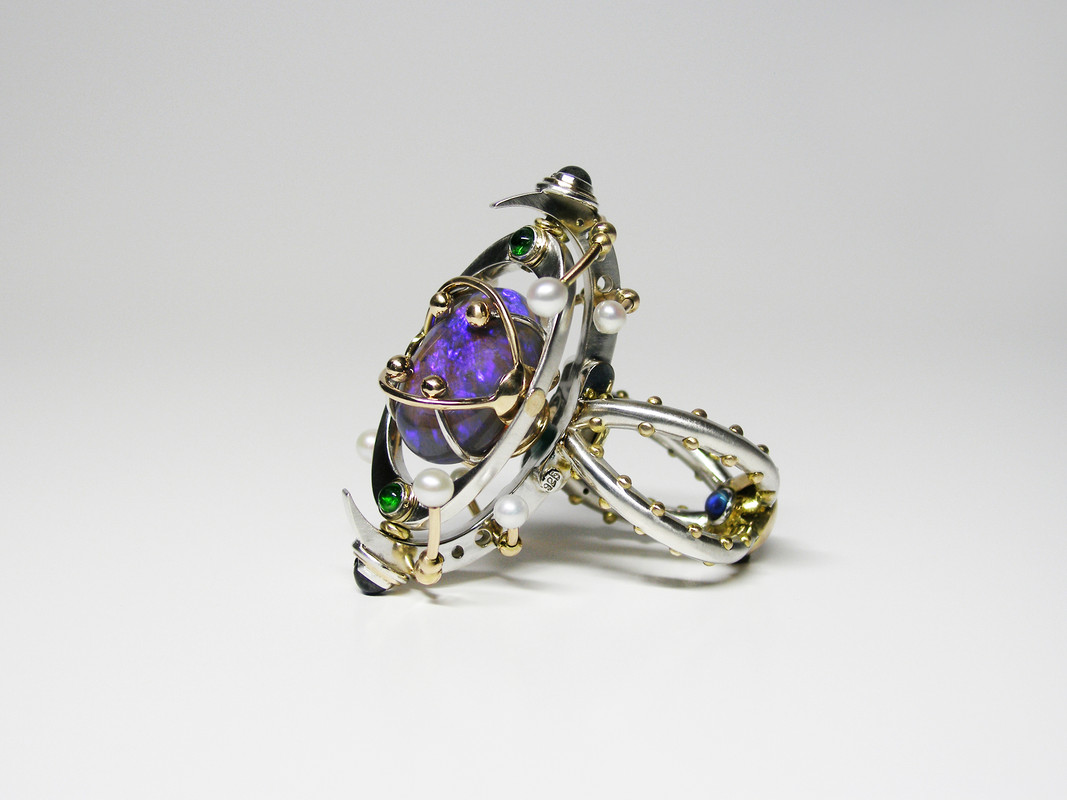 Magnificence Stellaire, Kinetic Ring - 14k yellow gold, sterling silver, opal, diopsides, amethyst, moonstone, pearls. Inspired by the immensity of the starry sky in the farthest reaches of the northern hemisphere!
This ring was chosen for the exhibit at the Canada Guest Pavilion during the Cheongju International Craft Biennale 2009 in South Korea, the 2010 Vancouver Olympic Winter Games exhibition at the Museum of Vancouver, at the Exhibition Out of This Space at Forbes Galleries in New York, and at the Carnegie Fine Art Museum, USA.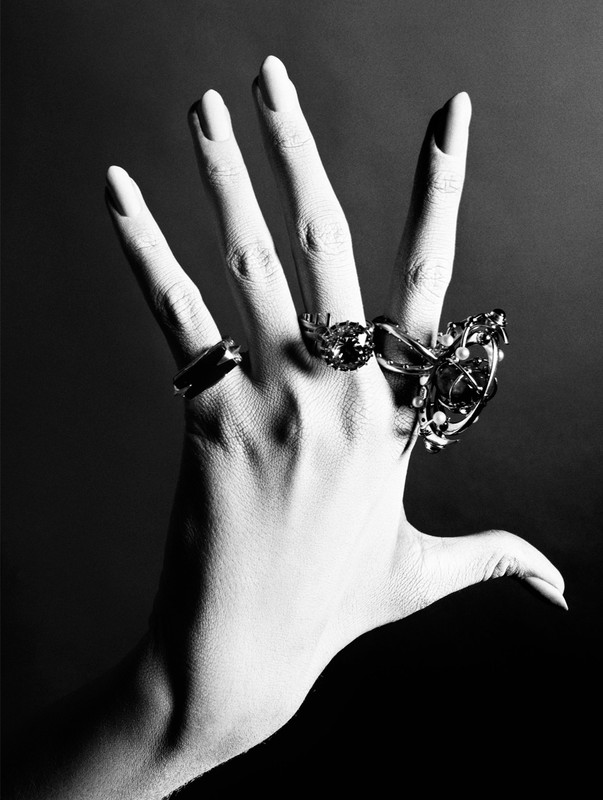 Magnificence Stellaire featured in PULP Magazine, photo by Arkan Zakharov.

Q: Tell us about your jewellery featured in films. How did you get it featured?
A: After The Hunger Games: Catching Fire came The Dark Tower. In Spring 2016, costume designer Trish Summerville and her team reached out to me. They were interested in my "lucite" pieces for the actress Abbey Lee, the female lead role of Tirana in Stephen King's The Dark Tower. My Collection is composed of sculptural one-of-a-kind rings made of polycarbonate, which explore the theme of transparency in a literal and figurative sense. With high transparency and excellent resistance to impact and shock, this robust material is mainly used as the ultimate anti-bullet protection, while having a fragile appearance and a certain delicacy due to its clarity. Emphasizing these contrasting aspects, these sculptural rings offer a balance between the hardness of this industrial material and sweetness presented by organic forms. Between light and shadow, each ring is a little poem that explores the transformation of an industrial material into small precious and portable objects.

This Cristalline Collection from 2013 fit perfectly with the essence of the magnificent Tirana as she has an appearance of being fragile, delicate and full of light - yet she is extremely strong, and powerful! As soon as I received the invitation to collaborate, I read more about this character and created a ring especially for her, in the spirit of my Collection.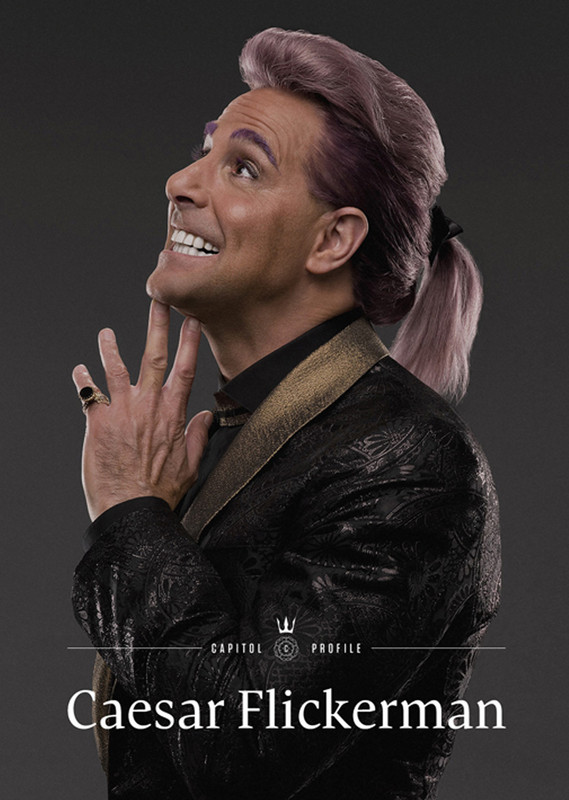 Claudio's ring worn by Caesar Flickerman (Stanley Tucci) in The Hunger Games: Catching Fire (2013), Lionsgate Films.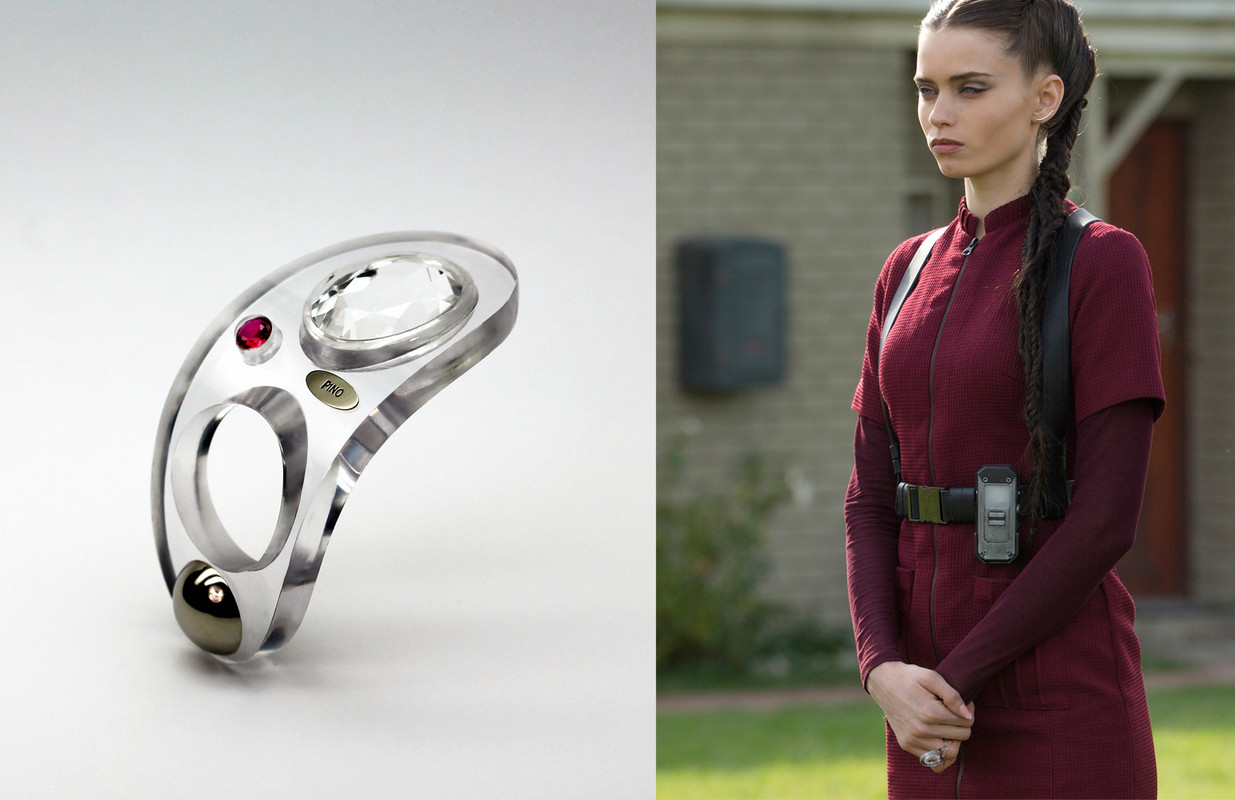 Cristalline - polycarbonate, palladium, ruby, crystal quartz. Worn by Tirana (Abbey Lee) in The Dark Tower (2017), Sony Pictures.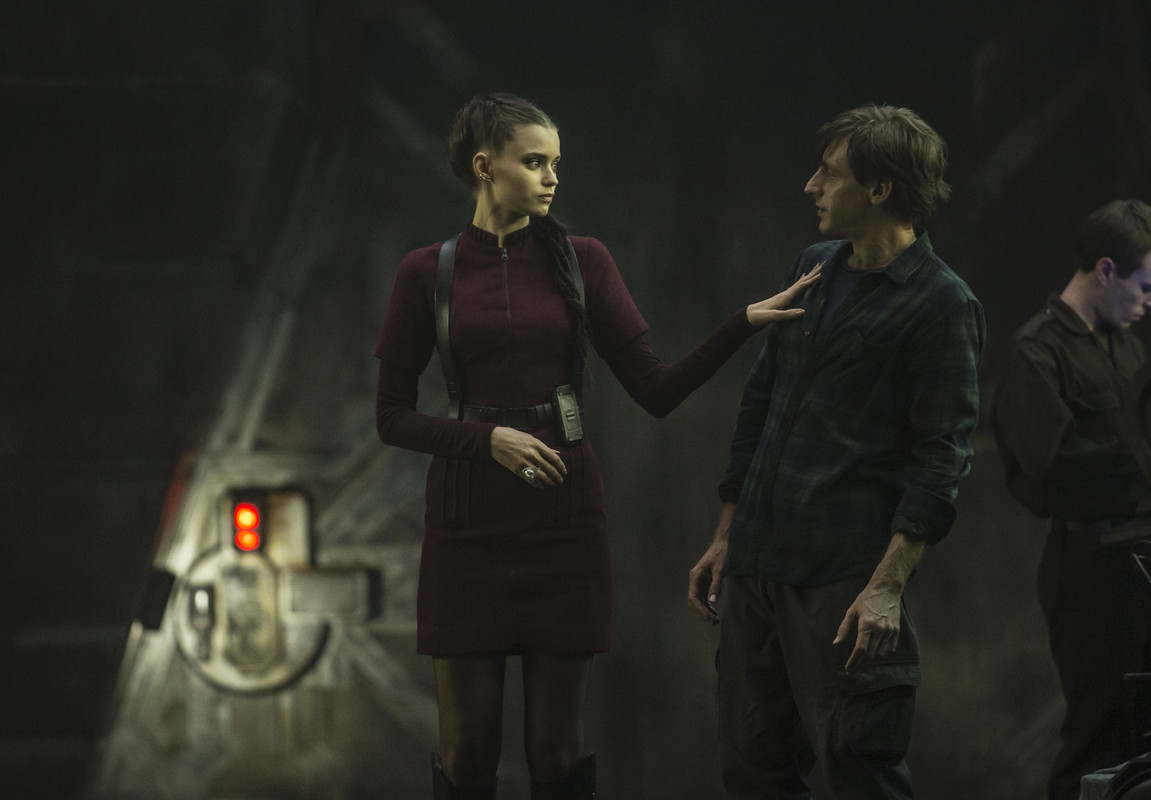 Tirana (Abbey Lee) in The Dark Tower wearing Cristalline.

Q: What tips do you have for aspiring designers?
A: My advice would be to persevere and always stay disciplined; to extensively study the history of jewellery, develop both the conceptual and technical aspects of each design, and to take risks with your designs. Push forward your ideas without imitating what has been done in the past. When you do so, you'll see your efforts being rewarded. Before all else, the most important thing you can do is to keep the flame of your passion for jewellery design alive, and nurture the artist inside you!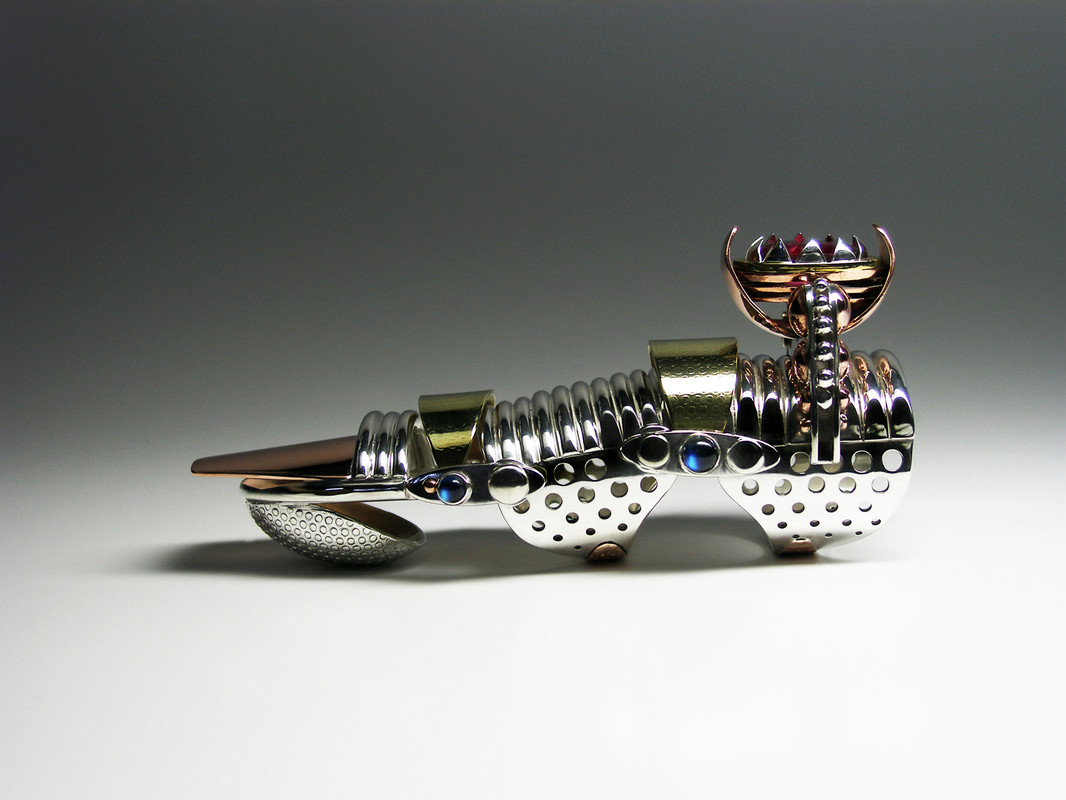 Tactus, Hinged Finger Ring - sterling silver, copper, brass, moonstone, rubellite. This hinged ring draws a bridge between the traditions of the metallic suits of armor worn in the middle ages to the historic representation of jewelry throughout time. It restores the importance of precision, expression and precious embellishment, while questioning how the sensation of touch has been amplified over the centuries.
This ring received the 2nd place Award for best design, "Larger Than Life, National Juried Exhibition in Print", Metal Arts Guild of Canada, Canada, curated by Gloria Hickey.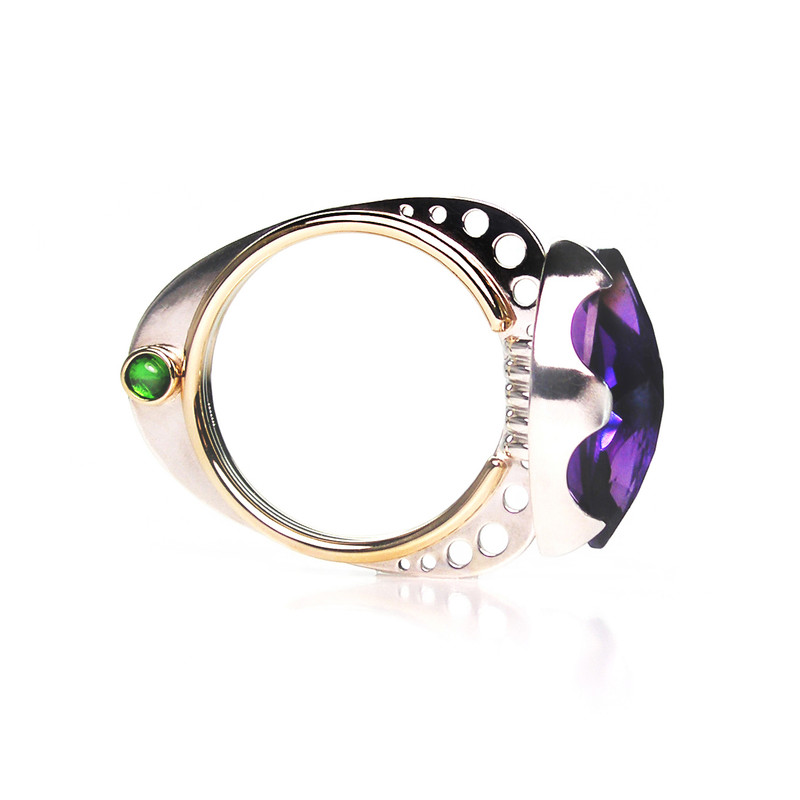 Marquise - 18k yellow gold, sterling silver, amethyst, chrome diopside.

Closing
"During the creative process, I never forget that someone will be wearing the ring. Therefore, rings first need to be very comfortable and belong to the hand. My rings come alive only when they find their owners." - Claudio Pino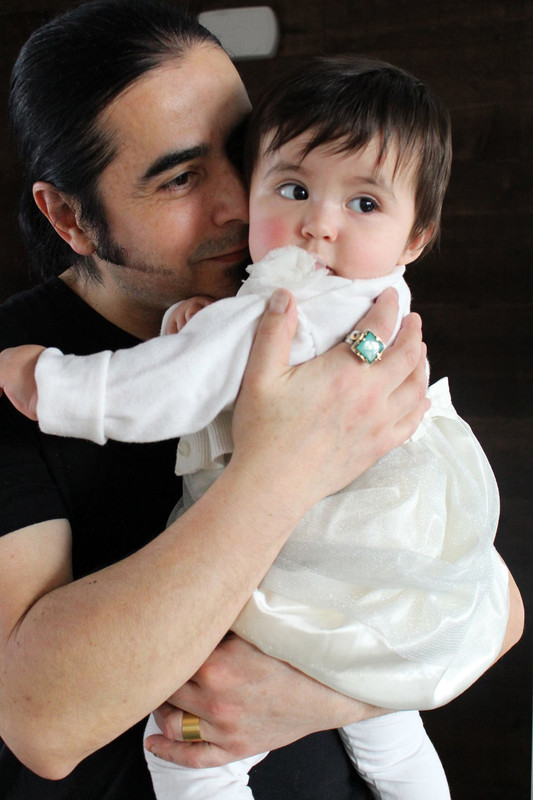 A warm thank you Claudio for giving us a window into your world and workshop this month! For more examples of Claudio's work click here.