ARTIST OF THE MONTH-BROWN
ARTIST OF THE MONTH
Every month we introduce you to one of our consignment artists. There is no salt and pepper, we reveal the rawest story on our artists' creative journey. How they met and fell in love with jewellery? What inspired them and how? What was the making process like? What are the tips on being a successfully established jewellery artist? Visit our Facebook and Instagram pages to stay up to date on our latest collections. Go to
INTERVIEW ARCHIVE
to read more stories.
Artist of the Month (13): Linda Brown
February 27, 2018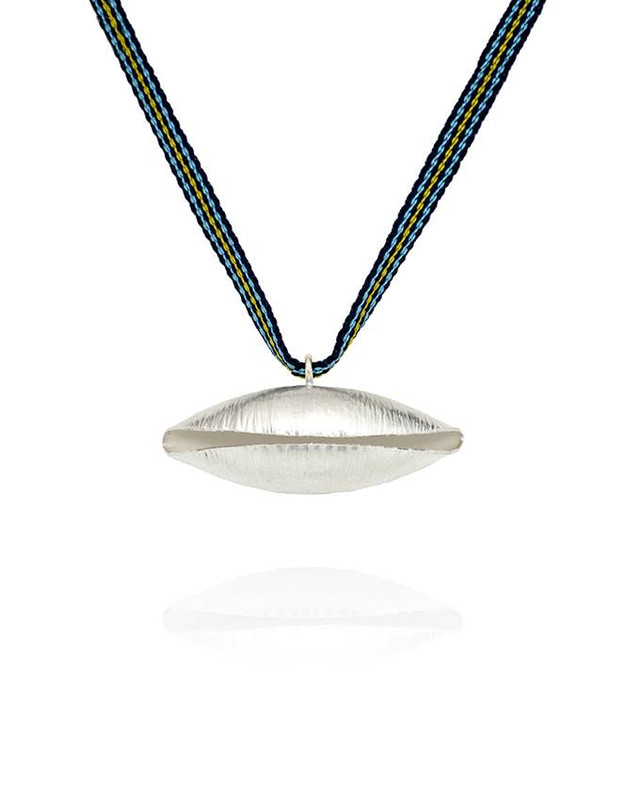 Pod Pendant - fine silver, sterling silver, silk ribbon (handwoven by Marianne Brown)

Linda Brown is a silversmith living and working in her hometown of Thunder Bay, Ontario. From her small storefront, Northern Lights Gallery & Studio, she produces hand hewn silver jewellery and holloware. We are lucky to have Linda's signature formed pods and bowls on display in our Toronto gallery, and to feature her work this month!


Q: What is your metal forming origin story?
A: I seem to have grown up with a hammer in hand. As a child I could sit for long periods hammering the pegs back and forth on my wooden toy with a little wooden hammer. When I mastered the toy, I graduated to straightening bent nails with my fathers hammer. Picture framing, wood carving, building construction and forming metal followed. A hammer demands focus - it can bruise fingers, ruin a frame, bend a nail and move metal... and it can create beauty. My first experience with chasing and repousse made me realize the importance of those early practices. The rhythmic ringing of hammer on metal striking accurately became a meditation that produced objects which always surprised. It is intriguing for me to think that metal can be so plastic as to change from two dimensions to three. This simple tool brings me joy.

Silversmith Linda Brown, in her Thunder Bay studio!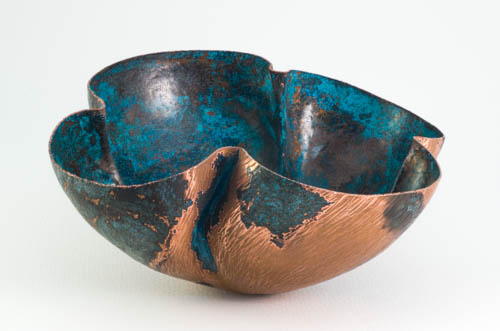 Four Bowl - copper with patina
Q: Where do you gather your inspiration?

A: I am inspired by where I live. Life on the North Shore of Lake Superior is about living close to nature. The lake has an energy unlike anywhere else I have lived. From my home I look out at the trees with the lake in the distance and am intrigued by the constant flux - the changes in the seasons, light, the winds, colours, and smells. I find the process of growth fascinating… how things grow juxtaposed to each other and how they affect each other's growth structure is a constant theme in my work.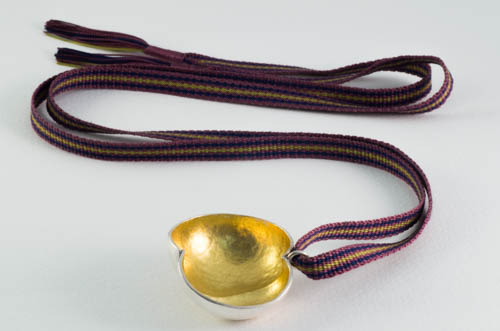 Almost Two Bowl Pendant - fine silver, 24k yellow gold keum boo, silk ribbon (handwoven by Marianne Brown)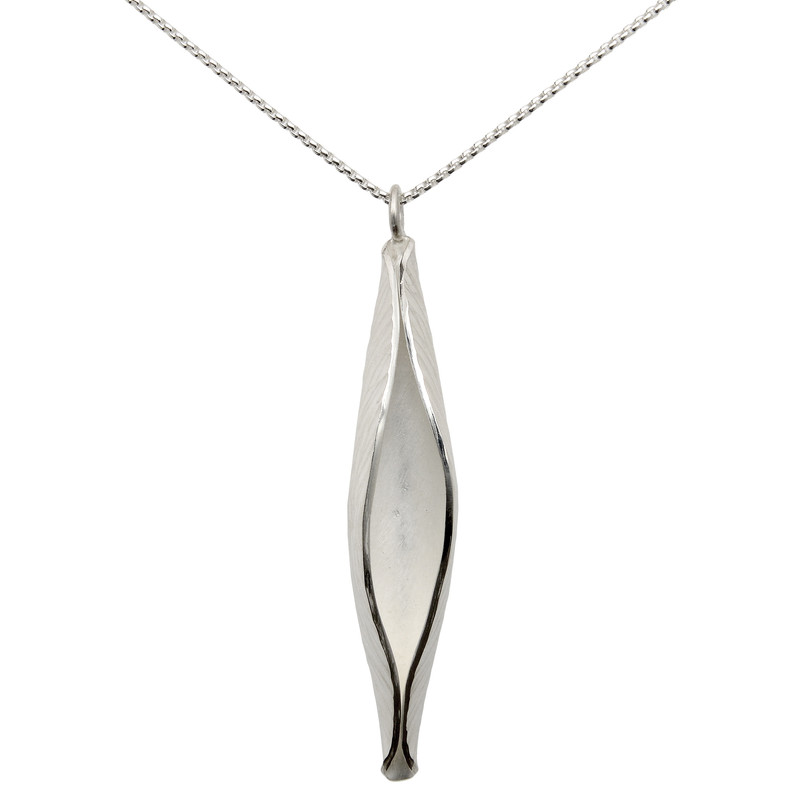 Open Pod Pendant - sterling silver, fine silver (with sterling silver box chain)

Q: What is your working process like? What are your favourite materials?
A: "The forms I create are simple organic shapes. When I start out with a cutout shape of metal, I have a structure in mind, but I am not replicating from an exact drawing. The cut out shape is edge finished first, during which my mind wanders to what the end piece will be. Just as flora grows in nature, I coax the metal to move and grow into a shape that speaks of the natural process of growth. The textured exterior surface is hammered on early in the process: usually after the first course, and allowed to stretch as the metal is formed. Each type of metal work hardens at a different rate and holds the textured surface in relationship to the hardness of that metal. It is very focused work which becomes a form of meditation. I love the process of sinking, raising and planishing, and am always surprised by the end result.


My favourite material is silver. I work in fine silver, sterling and sometimes britannia silver. Aside from silver and mostly with larger pieces, I work in bronze and copper. I love that each of these metals has a different personality and I allow the type of metal to dictate how it is worked."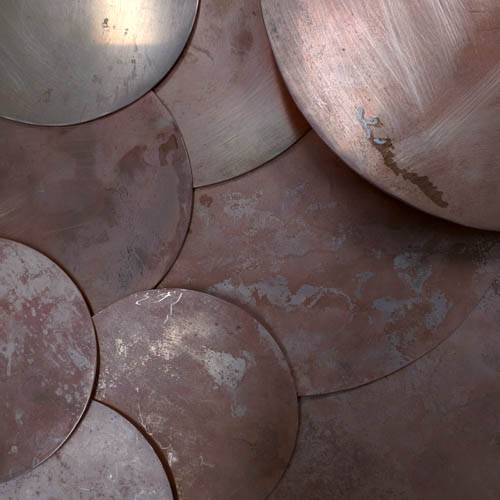 Copper and bronze discs ready for sinking.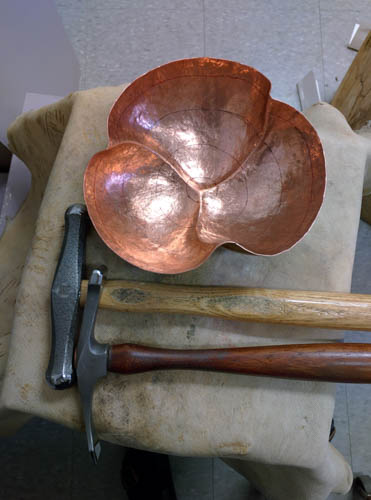 Copper Three Bowl in progress.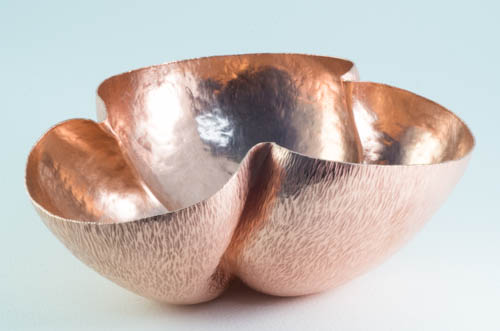 Three Bowl - copper (patinated), bees wax rubbed

Q: What makes your pieces unique in the industry?
A: "My work is unique because it relates to who I am and where I live. It's an interpretation of ideas and philosophies which are unique to how I think and how I live."
Q: What is the most valuable lesson you have learned throughout your career?
A: "The most valuable lesson I have learned is to work hard never stop learning. It's all an open book, there for us to fill in the pages. The possibilities are endless in this industry."
Q: What's your motto?
A: "Don't get attached, it's only a bit of metal."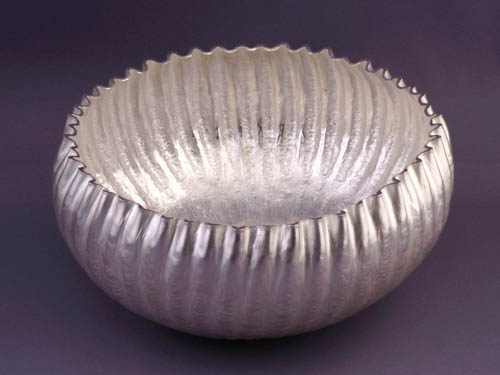 Sterling silver formed bowl.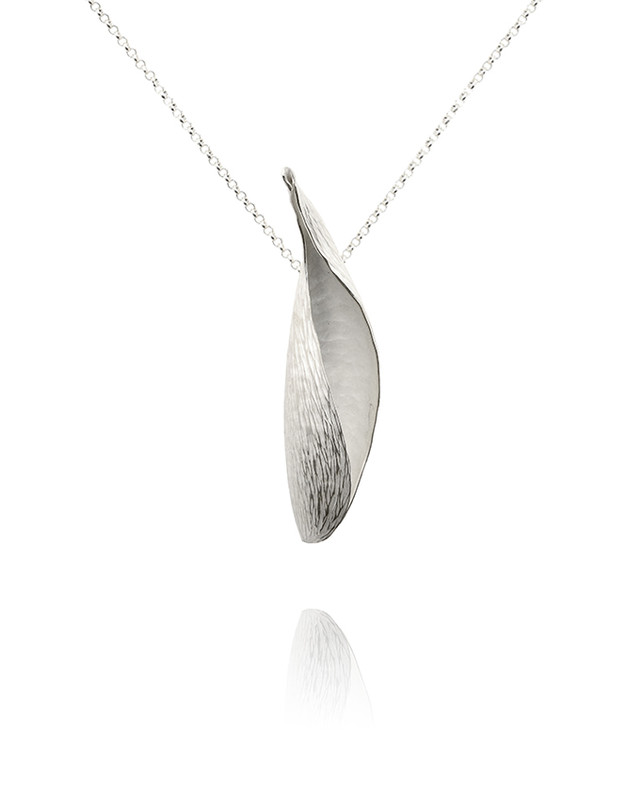 Milkweed Pod Pendant - sterling silver, fine silver (with sterling silver rolo chain)

A big warm thank you to Linda for sharing your skill and inspirations with us this month! For more examples of Linda's work click here.